Share-Buttons überspringen
Restaurant
In the dining rooms or under the stately oaks of the beer garden always freshly prepared dishes come to the table. The ingredients depend on the season: there are game and fish, asparagus, pumpkin and mushrooms when the time is up. Enjoy as an asparagus time, the noble vegetables in a classic way with brown butter or hollandaise sauce, as asparagus salad or soup or as a refined sauce to chilli spaghetti.
As far as possible, we buy goods from regional suppliers. Our juices come from the Wietz winery in Kyritz, the asparagus from Dreetz from the Spargelhof Baselitz, the chanterelles from the neighboring forests, the potatoes from the Bauer Schüler or from the Kartoffelhof in Perleberg, and the pumpkin is supplied by proud garden owners.
In the kitchen, we like to use homemade herbal pastes and flavored syrups. We pick wild garlic in spring and process it into a durable paste. The dandelion flowers are cooked to a delicious syrup and then used for fine desserts or lemonade, as well as elderflowers. This is how the Prignitz tastes
Apart from our varied menu for every taste, we also have special culinary and visual highlights for our guests. One attraction is our summer barbecue, where you can enjoy spare ribs from the original American Oklahoma Grill on Fridays and Saturdays. Do you like it very romantic? Is there an occasion you would like to celebrate with partners, friends and family? Book one of our candlelight dinners with a three or four course meal.
60 guests can be seated in our restaurant, on the spacious terrace / beer garden 70. We are also happy to make our room with 120 seats available on pre-order. You are welcome to reserve a table online.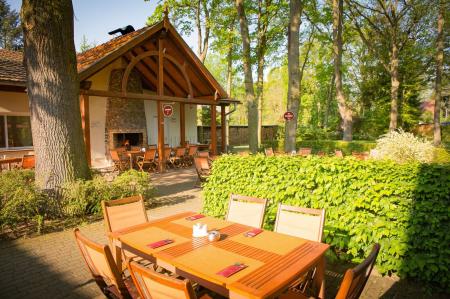 Hours: Monday to Friday from 14.00 to 22.00, RESTING on Thursday!
Kitchen times from 2 pm to 9 pm, order food until 8.30 pm
Saturday, Sunday & public holidays from 11:00 to 22:00
Kitchen times from 11.00 to 21.00 clock, food order until 20.30 clock