Links zum Teilen der Seite überspringen
restaurant
A relaxing break in the "Waldschlösschen" was very popular with summer visitors from Berlin more than 100 years ago. Since it reopened in 2000 after a loving renovation, the traditional restaurant has been pampering its guests again. Located in the middle of the forest and close to the lake, the restaurant in the family-run "Waldschlösschen" is an ideal place to go for people who are looking for peace and relaxation in nature.
How does it taste, the kitchen "very far outside"? After good ingredients and good craftsmanship. According to tradition and according to the new, which we integrate into our menu from international cuisine. Try it yourself. We invite you to enjoy our dishes made from regional and seasonal ingredients in an idyllic ambience.
Opening hours
Monday to Friday from 2.p.m to 10 p.m.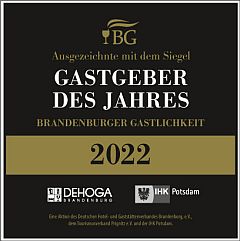 Day off on Thursday!
Kitchen hours from 2 p.m. to 9 p.m.
Food order until 8.30 p.m.
Saturday, Sunday & public holidays from 11a.m. to 10p.m.
Kitchen hours from 11.30 a.m. to 9 p.m.
Food order until 8.30 p.m.
As far as possible, we buy goods from regional suppliers. Our juices come from the Wietz cider factory in Kyritz, the asparagus from Dreetz from the Baselitz asparagus farm, the chanterelles from the neighboring forests, the potatoes from the farmer Schüler and the pumpkin from the Rixmann farm in Linum.
In the kitchen we like to use homemade herb pastes and flavored syrups. We pick wild garlic in the spring and process it into a durable paste. The dandelion flowers are boiled into a delicious syrup and then used for fine desserts or lemonade, as are elderflowers. This is how the Prignitz tastes...
In addition to our varied menu for every taste, we also have special culinary and visual highlights for our guests. One attraction are our summer barbecue offers, where you can enjoy spare ribs from the original American Oklahoma grillon Fridays and Saturdays. Do you like it particularly romantic? Is there an occasion that you would like to celebrate with partners, friends and family? Book one of our candlelight dinners with a three or four course menu.